PAINTER ELIORA BOUSQUET

Page Summary:
Eliora Bousquet is a listed French Painter practicing in Paris since 2009. Affiliated to the 'Maison des Artistes', she has specialized in symbolical, expressionist, lyrical and atmospheric abstract art. She usually paints in acrylic and ink. Her main source of inspiration: the concept of FREEDOM. She has painted more than 1,000 paintings and regularly participates in exhibitions worldwide. Eliora has also developed a whole range of interior decoration products derived from her paintings.
A VIVID PASSION FOR PAINTING
"I dream my painting and I paint my dream."
Vincent Van Gogh
As a Certified Professional Painter affiliated with the French "House of Artists" and practicing in Paris, I have specialised through the years in symbolical, lyrical, expressionist and atmospherical abstract art.

I have painted over 1,000 original works and taken part in more than 190 exhibitions in France and around the world.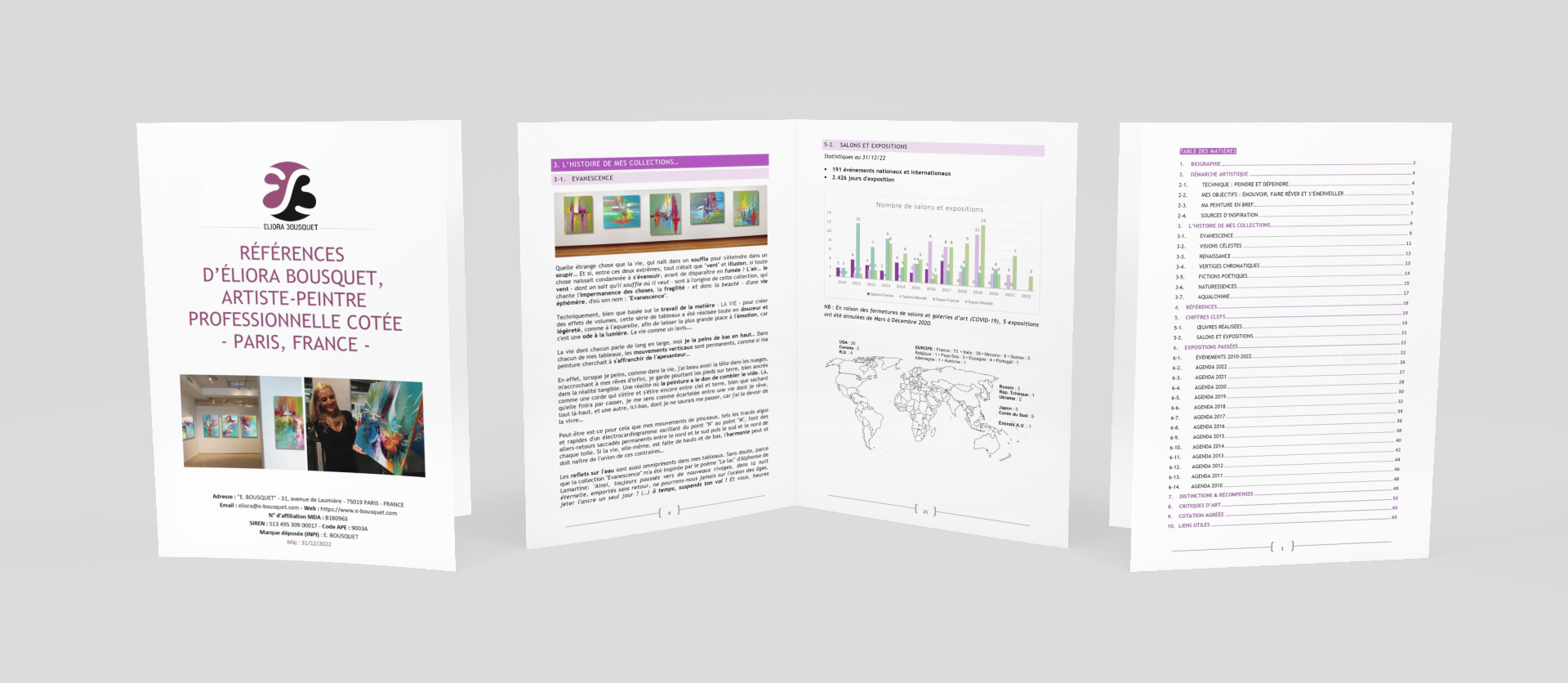 My artworks are divided into 7 main thematic collections that you can discover in pictures through the links below, or in video.
Main collections
Secondary collections
(Paintings made as part of thematic exhibitions and art contests)
Because I find inspiration for new collections through constant experimentation, I use several techniques to obtain different results with the same range of colors:
My website allows you to buy my paintings online at the workshop price, from € 1.500 to € 5.000 and search my artworks by name, collection, size, format or price.

General terms of Sales • Price List • Payment Facilities • Useful information (payment, delivery,...)
Make this painting yours!

Please feel free to discover my paintings in different settings, in order to imagine them at your home. I am at your disposal for any tailor-made staging!
If you would like to see my works in a gallery before making any decision, I would be happy to present them to you at a public exhibition. Just contact me!

After having exhibited my paintings in more than 190 exhibitions in France and abroad, I decided to take a 1-year-exhibition break to paint new collections of paintings. There's a surprise in store for you ;-)

Art Criticism • Books and guides • Art Magazines • Other publications.

I am at your disposal to answer all your questions about my career, my artistic approach, my technique and exchange with other artists.
I hope you enjoy browsing my site and thank you, in advance, for your visits and comments :-)
If you'dever like to keep a little memory of your visits, do not hesitate to download and print free bookmarks displaying part of my collections of artworks!
DISCOVER MY PAINTINGS IN VIDEO!
ARE YOU AN ART LOVER TOO?

Please feel free to read all pages of my Art portal!
Useful Links for Art lovers • Painting Methods • Art Supplies • Art books • Movies on Art