FAQ: UNISEX APPAREL

Summary of the page :
Elisabeth Eliora Bousquet answers your questions regarding her line of unisex apparel (T-shirts, socks and shoes). For more information, contact the artist!

What types of unisex clothing do you offer?
Not surprisingly, mainly basics: t-shirts, tank tops, sweatshirts, sneakers, flip-flops, etc. I have adapted around a hundred of my artworks into designs for both men and women, creating complementarity within my range with a distinctly androgynous look, while still focusing on the concept of elegance, which is conveyed through the harmony of shapes, colors, and materials used.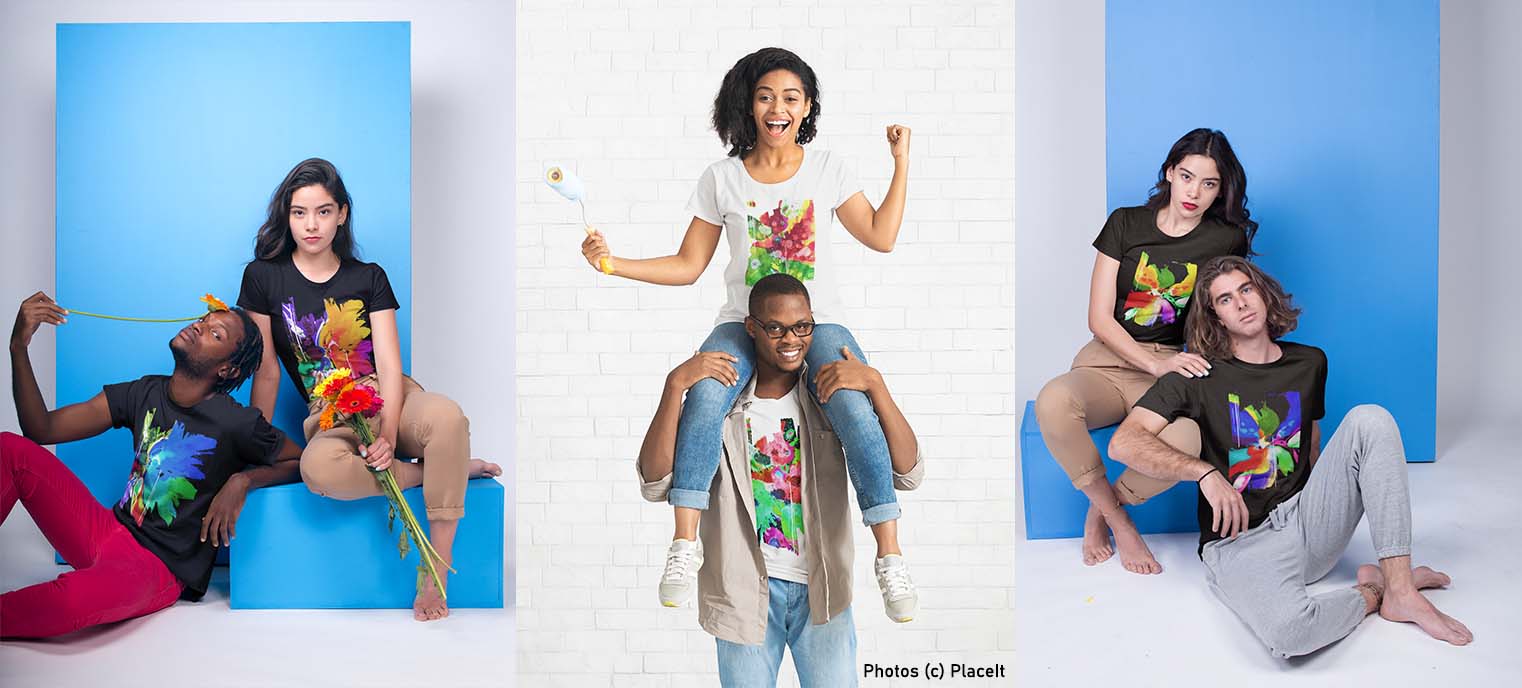 What are the sizes of the matching unisex cotton t-shirts?
They are available in sizes S to 5XL.

For information, when placing an order, you can choose different fabric colors than the white base offered in my store, such as:
Sky blue
Light turquoise blue
Dark gray heather
Light gray heather
Light gray solid
Beige
Apple green
Egg yolk yellow
Lemon yellow
Straw yellow
Orange
Pink
Very light pink


Products from the "Painting" line


Products from the "Illustrations" line
Do you have any pictures of the unisex t-shirt on a model? I can't imagine how it looks on a hanger.
Yes, and you can find pictures below:
For your information, the unisex t-shirts are short-sleeved, printed on both sides on 100% polyester fabric, and available in sizes XS to 2XL.

Are the "graphic t-shirts" printed on the back? Can they be suitable for teenagers?
The graphic t-shirts are only printed on the front. The back and short sleeves are made of black cotton (100%). The fit is straight.
The sizes offered range from XS to 2XL, so the graphic t-shirts can be worn by both men and women, as well as teenagers from around 10-12 years old.
I design these models on a made-to-order basis only.
My daughter is fond of your high-top sneakers. What sizes are available? Can you provide me with more information?
The ZIPZ® high-top sneakers derived from my paintings are available in sizes 35.5 to 47.
They are made of durable canvas and fasten with laces. The interior of the shoe features a cushioned insole for maximum comfort, and the soles are made of rubber, making them easy to clean.

I design them on a made-to-order basis only. The price for a pair is €114 (excluding shipping, which is handled directly by the manufacturer).
If you want to purchase multiple pairs, the advantage is that the upper part of each sneaker can be removed with a zip closure, allowing you to change styles!
Are the sizes the same for the low-top sneakers?
Yes, because they are made by the same manufacturer.
The models are available in both "high-top sneakers" and "low-top sneakers" versions, in the same materials and sizes, to meet everyone's preferences. The low-top sneakers are just slightly cheaper (€106 per pair) than the high-top sneakers (€114 per pair).

I design them on a made-to-order basis only and can create custom items:
Please email me the desired product name and the painting you are interested in from my website.
Let me know if you would like a solid color background (and which color) in the fabric section beneath the laces, or if you prefer my painting to cover the entire sneaker.
I will create the design within 24 hours and send it to you via email. If you are satisfied with the product, I will make the model available for purchase in my shop, so you can buy it. And if you happen to change your mind in the meantime, please know that you are under no obligation to make the purchase!
Do you have slip-on shoes for men?
Absolutely! They are unisex and available in sizes 35.5 to 47.
Slip-on shoe models by Eliora Bousquet

Like the other ZIPZ® branded models in my collection, these shoes are incredibly comfortable and feature arch support cushions. They are made of durable canvas (100%) with rubber soles.
I only make them to order.
The price for a pair is €106 (excluding shipping, which is handled directly by the manufacturer).
Upon request, I can cover the entire shoe body, not just the front, and apply solid colors other than white. It's up to you!
Are your flip-flops for women only or also for men and children?
Havaianas® beach flip-flops are available in sizes 35 to 47, with black or white soles and straps.
They are unisex and suitable for women, men, and teenagers. There is also a model for babies and children.
Eliora Bousquet beach flip-flops

Featuring wide straps, they are made of 100% rubber, making them both durable and long-lasting.
They are also comfortable, thanks to a cushioned sole and a "rice grain" texture.
I make these flip-flops on a made-to-order basis only.
The price for a pair is €45 (excluding shipping, which is handled directly by the manufacturer).
I wanted to buy Zip-Z sneakers in size 37, but the size range is listed as 6 to 11. Is this a bug?
No, it is not a technical issue. Since the manufacturer of Zip-Z sneakers is based in the USA, the sizes correspond to US sizes.
Below is the conversion chart provided by the manufacturer. If you want women's size 37, you should select size 7. If you want size 37 for young men, you should choose size 5.
Size Conversion Chart:
Women's Size 37 = US Size 7
Young Men's Size 37 = US Size 5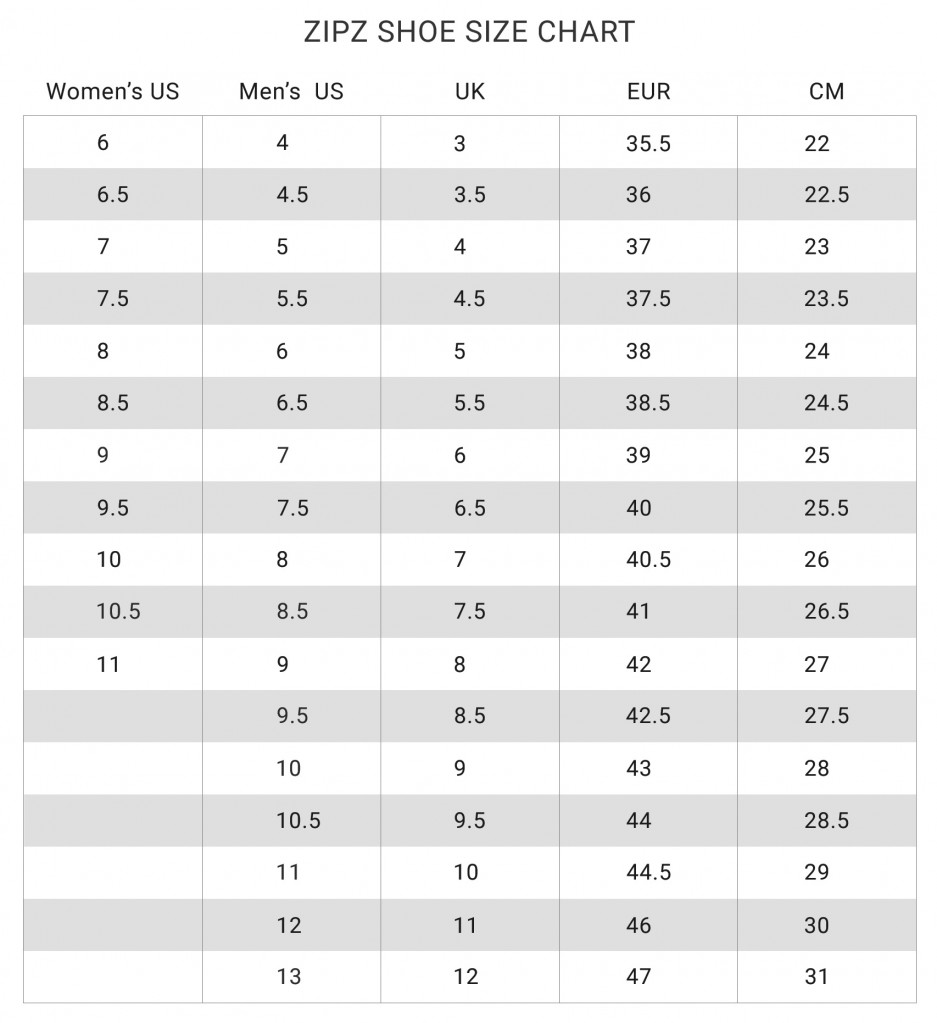 Source (c) Zazzle
In what sizes are the socks available?
In my shop, I offer socks in the following sizes:
For women: sizes 36-40
For men: sizes 38-46

These socks are printed on both sides and can be machine washed on a gentle cycle (30°C). They are made of 75% polyester, 22% nylon, and 3% elastane.
Please note that I design these socks to order only.
The price for a pair of socks is €18 (VAT included, excluding direct shipping costs managed by the manufacturer).
Watch my products in video!