PRICE LIST
The sales prices listed on this website are those listed on the certified quotation of Eliora Bousquet, after study by an Art Expert.
SALES PRICES
Workshop rates (main sizes):

Consult my Certified Quotation 2020-2022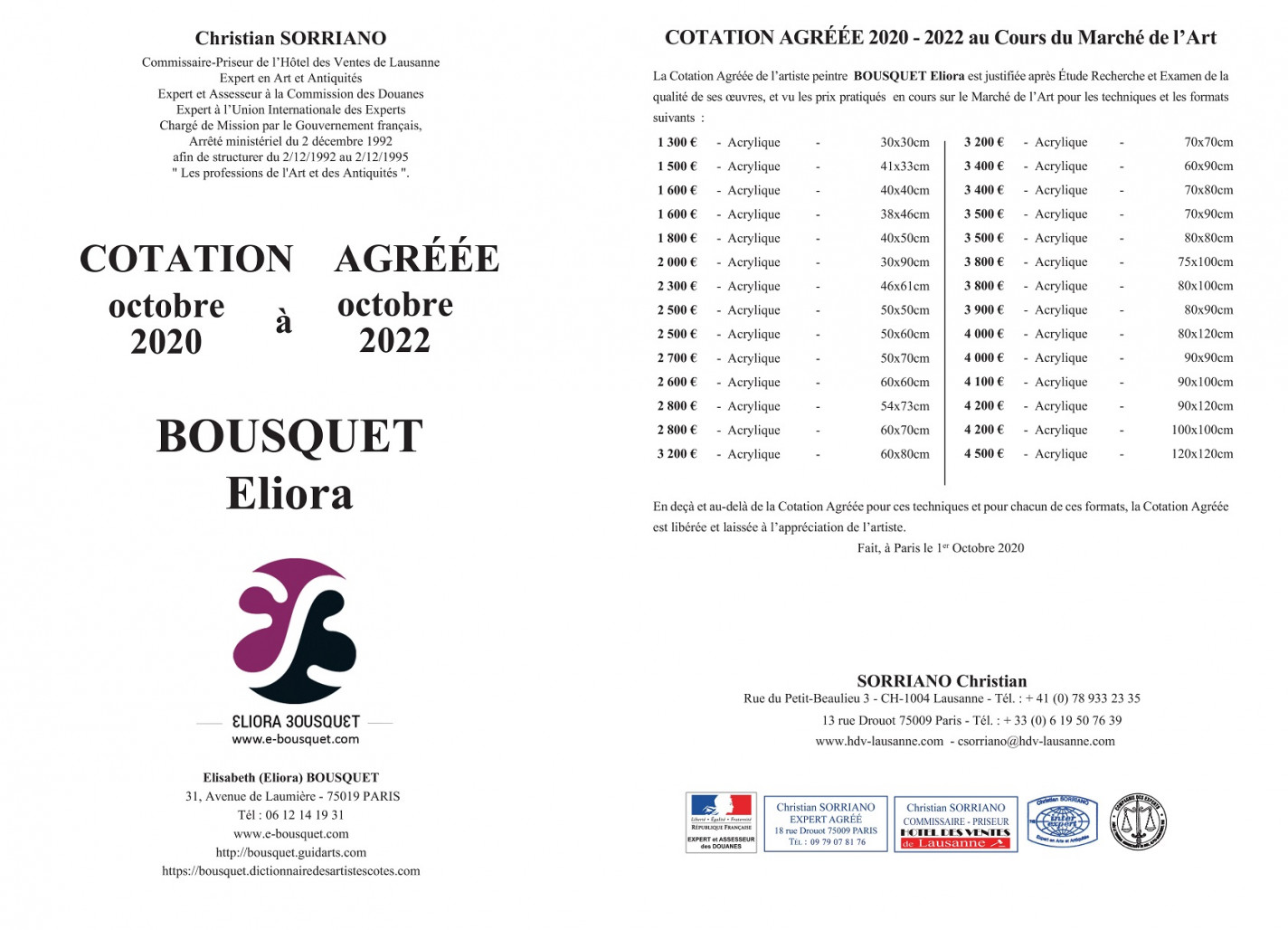 For the avoidance of doubt, and to simplify the sales process, please note that the sales prices advertised on this website:
are quoted and payable in € (Euros) ;
are payable at the time of the order ;
are inclusive of all statutory taxes. Note that the Artist is not liable to register for VAT and therefore that no VAT will be applied to sales ;
are inclusive of postage, packaging and insurance costs (*) ;
exlude customs & excise duties for sales outside the European Union ; the client is responsible for the settlement of any such customs & excise duties. Should they be paid on the client's behalf by the transporter, the client undertakes to reimburse the transporter accordingly. The Artist cannot be held responsible and will accept no liability for the non-payment of such customs & excise duties ;
are sold unframed. The Artist will however be pleased to provide advice to the Client with regards to chosing a frame, or to provide the contact details of specialised stockists ;
are valid only for the artworks made available for sale on the www.e-bousquet.com website.
(*) Should the Client chose to collect their painting in person from the Artist's workshop or from an exhibition gallery, postage and insurance costs will be deducted from the purchase price.
Note that paintings not for sale – part of the Artist's personal collection, already sold or reserved - are also listed on the Artist's website, and appear without a sale price. As the Artist never produces more than one copy of a painting, only one unit of each piece can ever be sold (there is no additional stock, and no copy will be made).
The Artist reserves the right to alter her prices from time to time. However, note that the final sale price will be the price published at the time of order.
The Artist may apply special discounts to an order (web exlusives).
NOTA BENE :
The Artist may offer her work for sale on other selected internet sites.
The sales prices published on such websites for the Artist's works may differ from those published on the Artist's own website, and different terms and condition of sale may apply, with such third parties usually charging a percentage fee for their services and/or for delivery.
Clients are therefore advised to order directly from this website www.e-bousquet.com, in order to take advantage of the best available prices and prompt delivery.
In addition, no discount or credit facility can be negotiated with such third parties, as the Artist alone is authorised to alter her prices.
WEB EXCLUSIVES
Discount of 10 to 30% on a selection of paintings!
This exceptional special offer is reserved exclusively for individuals opting for an online payment via Paypal, credit card / Visa or credit card, from my website (100% secure access). This offer is avalable only one a year (September).
Sales prices are inclusive of VAT, shipping included for Europe only.
The discount corresponds to the average commission taken by contemporary art galleries. I offer you the corresponding amount, as part of a live purchase on a selection of paintings.
RENTAL RATES
This area is under construction. It is intended to offer some of the Artist's works for rental by businesses, clubs and individuals.
None of the Artist's works is currently available to rent either from this or any other website outside of France.