Oriententation
Collection : "Chromatic Fantasiae 4"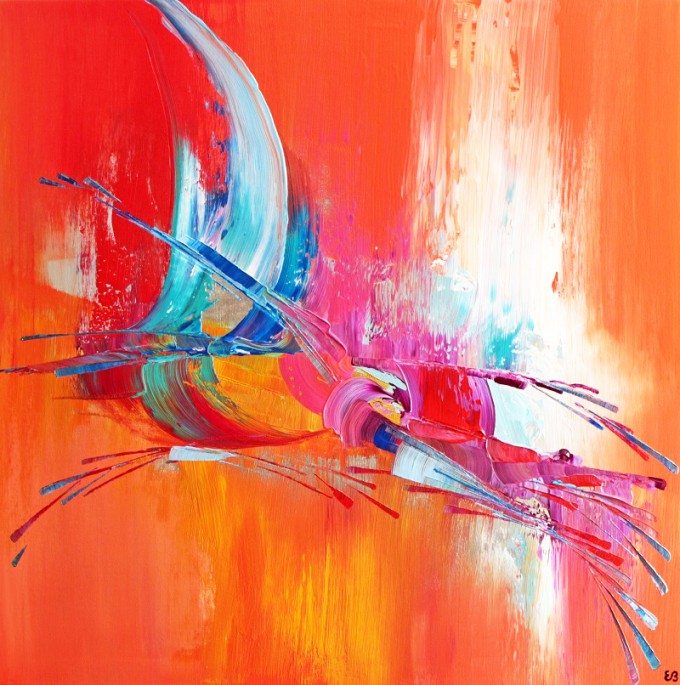 Technical Details
Media : Acrylic paint
Supporting Medium : Stretched canvas
Actual Size : 80 x 80 cm
Ref. number : O-36
Copyright : EB-00046741
One-of-a-kind Artwork

Status : Available
WITH THIS PAINTING, CREATE A WORLD OF YOUR OWN!

>>> Discover more ideas to decorate your home!
YOU MIGHT LIKE THESE RELATED PRODUCTS:



View the full catalog of products
Your comments on this work
Moi je vois des voiles de bâteau mais aussi un oiseau qui vole vers la droite, enfin genre...
Luna D.
Vos couleurs font penser à des couchers de soleil
Amélie B.
Que c'est beau !!!!
Michele K.
Sublimissimo à me faire perdre mes mots...
François-Régis H.
J'y vois les jonques de Toffoli... c'est très aérien... j'aime beaucoup votre style. Bravo.
Eléonore L.
Vos tableaux sont aussi lumineux qu'un arc-en-ciel, aussi flamboyants qu'un coucher de soleil... j'adore vos couleurs et vos mouvements ! Vos tableaux me parlent... ils m'émeuvent. Merci pour ce moment de poésie. Et continuez à nous émerveiller ! Cordialement,.
Sylvie B.
Post a comment