'Twixt Sky And Sea (7)
Collection : "Evanescence 7"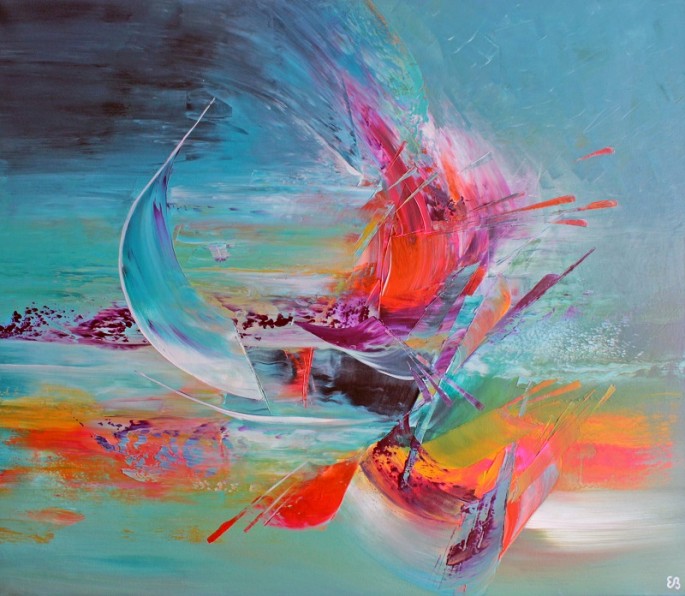 Technical Details
Media : Acrylic paint
Supporting Medium : Stretched canvas
Actual Size : 70 x 80 cm
Ref. number : Q-44
Copyright : EB-00046741
One-of-a-kind Artwork

Status : Private Collection
A WORK IN PROGRESS...

WITH THIS PAINTING, CREATE A WORLD OF YOUR OWN!

Photomontage made for illustration
Your comments on this work
"Symphonie"

Tout est relié
Tout est conscience
Des liens invisibles
Dans un océan d'énergies
Que des émulsions permanentes tissent
Dans une eau de feu.
Des esquisses vibratoires
Des ébauches de formes
Au rythme du souffle.
Le vide est plein de vie.
Il expire et inspire
Aspire et soupire
Au gré des convulsions
Suaves litanies
Aux couleurs rutilantes
D'où jaillit un volcan intérieurs
En gerbes flamboyantes.
Tout est relié
Tout est conscience.
Christian M.
Il y a tant à ressentir dans ce tableau !!!! Superbe !
Sigrid B.
Quel feu d'artifice... bravo bisous
Marco D.
C'est très beau toutes ces couleurs !!
Marjorie T.
Post a comment
Artworks from the same collection