Celestial Chrysalis
Technical Details
Media : Acrylic paint
Supporting Medium : Stretched canvas
Actual Size : 46 x 61 cm
Ref. number : B-69
Copyright : EB-00046741
One-of-a-kind Artwork

Status : Private Collection
A WORK IN PROGRESS...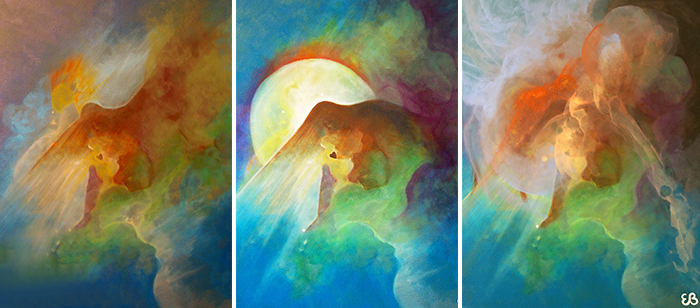 WITH THIS PAINTING, CREATE A WORLD OF YOUR OWN!

Your comments on this work
Vraiment une merveille !
Michel B.
Une merveille !!!!!
Michèle Kromer
Hello... You are very creative...
Raed A.
C'est de plus en plus beau ! Continue, ma puce et rappelle toi : "Tout vient à point à qui sait attendre"… Je t'aime
Mounette
Chère Eliora, je retourne régulièrement sur votre site et c'est le même émerveillement à chaque fois : vos "visions célestes" ne sont qu'énergie, mouvement, lumière, espace... c'est un voyage absolu à chaque toile et je suis fan de tout mon être ; je ne sais à quoi cela correspond en moi mais c'est la symbiose totale ! Vous arrivez à matérialiser ce que je n'arrive qu'à rêver !!!!! Je ne cherche pas à vous flatter, je suis vraiment très sincèrement une fervente admiratrice. Je crois n'avoir jamais eu de coup de foudre aussi généralisé sur autant d'oeuvres en même temps chez un même artiste !!!
Armelle M.
Chère Eliora, on dirait que vous avez côtoyé des mondes parallèles…Vous employez des couleurs que l'on voit rarement qui, ajoutées à votre talent de peintre, laissent une impression de bien-être et de rêverie. Si je devais m'imaginer le "grand tunnel", c'est ainsi que je le verrais ! A bientôt
Sylvie B.
Toujours aussi surprenant ! J'adore !
Eve Viscardi
Post a comment