Kindred Spirits
Collection : "Celestial Visions 1"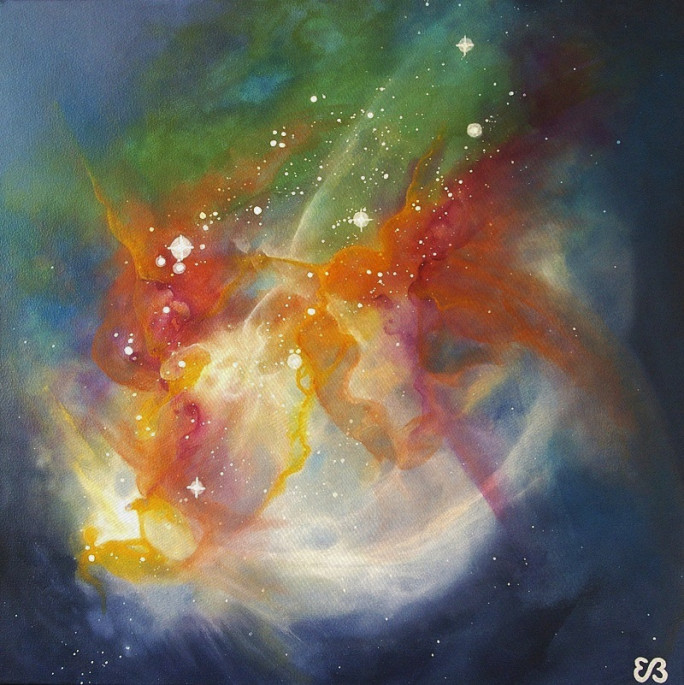 Technical Details
Media : Acrylic paint
Supporting Medium : Stretched canvas
Actual Size : 60 x 60 cm
Ref. number : B-60
Copyright : EB-00046741
One-of-a-kind Artwork

Status : Private Collection
WITH THIS PAINTING, CREATE A WORLD OF YOUR OWN!

>>> Discover more ideas to decorate your home!
Your comments on this work
C'est une chose dont j'ai discuté un jour avec un ami: un ou une artiste ne peut pas l'être sans un grand humanisme qui sourd de sa personne. Sinon, on se retrouve devant un technicien(ne) de l'art. L'art n'est pas nombrilisme, c'est le partage d'une vision, d'une âme. Bonne journée!
Gaëtan P.
C'est grâce à cette toile que j'ai découvert la talentueuse artiste qui se cache derrière mais aussi et surtout une très belle personne
Sigrid B.
ON dirait des chiffons de lumière... Flottant dans l'espace, mais aussi trois ou quatre "personnages"... Je pense que je flotte aussi :-) Superbe.
Gaëtan P.
Cette collection est juste magnifique
Nicolas de M.
Suprême ! Magnifique ! Toutes ces couleurs, j'adore ! Continuez ! A bientôt
Gaëlle L.
Peintre de l'énergie, tu excelles ! Amitiés
Micheline L.
Absolument extraordinaire ! J'ai pris l'image pour un de mes poèmes. En vous citant, bien sûr !
Gaëtan Pelletier
Maintenant, je sais pourquoi je t'ai surnommée "mon rayon de lune" : tu fais partie du Bing Bang, ma douce amie ! Tes toiles sont extraordinaires et j'ai envie de me jeter dedans pour m'y ressourcer. Je t'aime et je sais aussi, maintenant, que tu as trouvé ta voie.... ta voie lactée ! Affectueusement
Sylvie Bretaud
Quelle sérénité après avoir voyagé dans tes oeuvres ! Je ne me lasse pas de m'y promener... Je suis émerveillée par les couleurs et par cette "lumière" extraordinaire qui éclaire les tableaux. Surtout ne t'arrête pas... Bisous
Bernie Fave
Post a comment