Stellar Butterfly
Technical Details
Media : Acrylic paint
Supporting Medium : Stretched canvas
Actual Size : 50 x 61 cm
Ref. number : B-68
Copyright : EB-00046741
One-of-a-kind Artwork

Status : Private Collection
A WORK IN PROGRESS...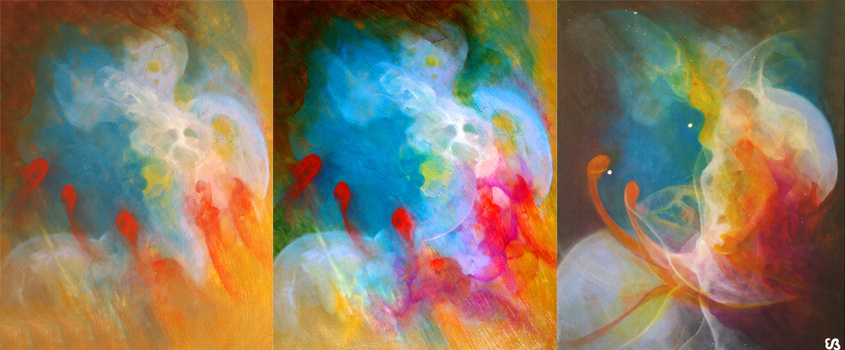 WITH THIS PAINTING, CREATE A WORLD OF YOUR OWN!

Photomontage based on a photo purchased under license from Fotolia
Your comments on this work
Magnifique j'adore cette transparence bravo
Patricia Vivier R.
Trop beau
Marie-Christine G.
Quelle imagination ! Bravo. Amicalement
Marie-José M.
Salut Eliora, je ne sais pas comment vous arrivez à ce rendu avec de l'acrylique, mais c'est génial toutes ces couleurs et ce mouvement. Moi, je travaille à l'huile et je galère pour arriver à créer de la matière quand j'ai enfin les bons mélanges de couleurs ! J'aimerais bien connaître votre secret... Bravo
Nico M.
Superbes, vos toiles ! J'aime tout ce qui est surréaliste et là, c'est très surréel et magique, très belles couleurs et compositions. Bonne continuation dans vos créations…
Eric T.
Epoustouflant ! J'adore cette énergie de couleurs, émotions et univers où je me vois flotter dans mes rêves. A regarder vos toiles, je me nourris l'âme
Joray
Post a comment
Artworks from the same collection