Eadem Mutata Resurgo
Technical Details
Media : Acrylic paint
Supporting Medium : Stretched canvas
Actual Size : 60 x 80 cm
Ref. number : F-79
Copyright : EB-00046741
One-of-a-kind Artwork

Status : Private Collection
A WORK IN PROGRESS...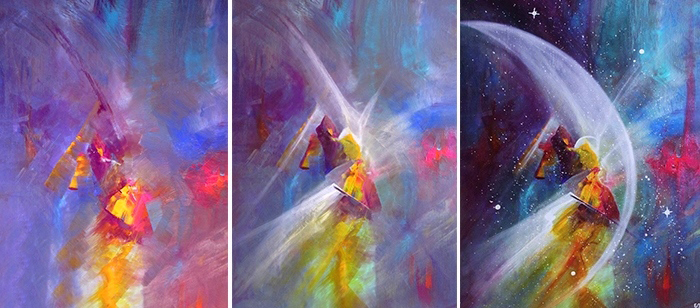 WITH THIS PAINTING, CREATE A WORLD OF YOUR OWN!

>>> Discover more ideas to decorate your home!
Your comments on this work
Comme un rêve… J'adore !
Marie-Claude L.
Superbe.... douceur et puissance à la fois ! Bravo Eliora
Alain C.
Vif succès, ma chère Eliora, pour cette collection absolument magnifique, magique !!!
Michèle K.
Très belle symbolique pour qui sait lire entre les lignes... Merci pour cette vision et votre créativité. Votre imagination est remarquable. Votre talent ne l'est pas moins. Bravo.
Claire-Marie de L.
Post a comment