Chromatic Fantasiae

One-of-a-kind Paintings
Styles: Lyrical Abstract Art, Action Painting
Technique: Acrylic paint
Direct Sale (no commission)
Free Shipping (Europe)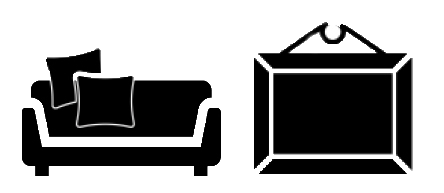 The story behind:
To me, painting is its own language that finds its form in the musicality of things, imposing its own rhythm, its own movement, chaining themes in cadence until reaching a certain harmony. Perhaps that's why the title of my collection nods to Jean-Sébastien Bach's 'Chromatic Fantasiae'… After all, can one put a flat note on comparing painting to music, when both can only exist through the use of a 'range of tones' harmoniously orchestrated? Moreover, don't we talk about 'lyrical' abstract art?
However, if my paintings could emit sounds, their music would have a more 'jazz' than classical side: it would be inventive, totally improvised around themes, largely instinctive though mastered, both soft, provocative, and unpredictable. They would also carry messages; a rather complex music, in short, although simple in appearance… because when one believes to see an image, guess a symbol, understand the meaning of the painting, it is turned, and there… other images appear; one never knows which themes will follow until the end of the melody, nor which color to assign to the played piece.
For colors to sound good together, they must vibrate, they must 'swing' on the canvas, like so many notes that land, chain, and agree on the score of life. If my painting mixes color with gesture in a 'raw', almost instinctive way, it is because it aims to be lively enough for all the senses to be in tune...

MAKE YOUR SELECTION!
Click thumbnails to enlarge pictures and discover technical description, sources of inspiration and post your comment! To return to the full collection after making a request, please click here: RESET

SERIES CHROMATIC FANTASIAE 1

The Whirling Dervish

Private Collection

Zeus Complex 2300 €
BUY
The Veil Of Maya 1600 €
BUY

SERIES CHROMATIC FANTASIAE 2

Khol's Secret 3500 €
BUY
The Tree of Life

Private Collection

SERIES CHROMATIC FANTASIAE 3

Flower Memories 2240 €
3200 €
BUY


Web Exclusive

The Nest

Private Collection

One Season in Paradise 2800 €
BUY
Sea Carnival 1890 €
2700 €
BUY


Web Exclusive

Qalam, The Sacred Feather

Private Collection

The Prayer

Private Collection

SERIES CHROMATIC FANTASIAE 4

SERIES CHROMATIC FANTASIAE 5

Blowing Up 2240 €
3200 €
BUY


Web Exclusive

Flying Away 2240 €
3200 €
BUY


Web Exclusive

In The Garden of Delights 1540 €
2200 €
BUY


Web Exclusive

The Oath Of Iris 3200 €
BUY
The Singing Phoenix 1800 €
BUY

SERIES CHROMATIC FANTASIAE 6

The Waters of Tiberias 3500 €
BUY
The Eye of Neptune 2240 €
3200 €
BUY


Web Exclusive

Eolian Fancy 2500 €
BUY
All In Good Time! 2240 €
3200 €
BUY


Web Exclusive

The Crossing of May 2240 €
3200 €
BUY


Web Exclusive

Descending Gust 3200 €
BUY
Oceanic Parenthesis (1) 3200 €
BUY
A non-sense Life 3400 €
BUY
Oceanic Parenthesis (2) 3200 €
BUY
The Chalice of The World 2240 €
3200 €
BUY


Web Exclusive

The Chalice of Eternity 1260 €
1800 €
BUY


Web Exclusive

The Gift of Thaumas 2240 €
3200 €
BUY


Web Exclusive

SERIES CHROMATIC FANTASIAE 7

The Waters of Castalia 1540 €
2200 €
BUY


Web Exclusive

The Alchemist 1540 €
2200 €
BUY


Web Exclusive

Wind Setdown 1800 €
BUY
In The Wake of The Nereids 2200 €
BUY
Ocean Flower 1890 €
2600 €
BUY


Web Exclusive

Thanatophobia 2200 €
BUY